Free Legal Documents
and Free Legal Forms
Your legal costs can be zero with the Free Legal Documents supplied here!
And we go one step further...
In addition to supplying a wide range of free legal documents and legal forms, we also advise and offer extensive information on all the things to look out for before you sign your contract.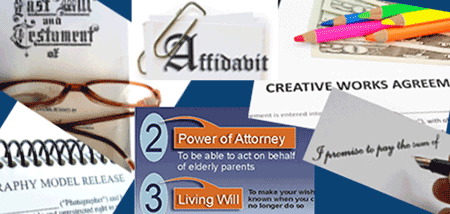 We put a lot of thought into compiling our legal documents and take pride in the selection featured on our site.
All the agreements and free legal forms are written in plain English so all parties can understand them clearly and they can be downloaded instantly (simply copy and paste) and free of charge.
Apart from supplying documents for business use, you will also find contracts to formalize a personal agreement.
There are many times when you should seek professional legal advice. Our aim with these free legal documents is to help you with your research before your legal consultation and so reduce your hours billed.
The easiest way to find the exact free legal documents you are looking for, is to simply enter your search term into the Google search bar at the top of this page.
Featured - How to Write an Affidavit
Our free affidavit templates are some of the most often used documents, since there are many instances in everyday life for which you may need to make a statement of fact under oath.
For example: to serve as proof of residence, to certify that you lost an important document and need a replacement, to attest to a death, in court proceedings and many more.
Here's how to write an affidavit in a few simple steps with various templates to download.
An evergreen reminder: Do you have an updated Last Will and Testament in place?
Apart from making a new will (which is always advisable), a Codicil to Will is an easy way to make simple changes to your will without a lawyer, e.g. change an executor or guardian, remove or add a beneficiary, revoke a will etc.
Addendum to a Will
We show you in 7 simple steps how to make a codicil as an addendum to your Will. You may also want to add a letter of wishes, add bequests or an asset list as addendums.
Codicil to Will
An overview of the legal requirements to make a codicil, with free printable templates as well as fillable forms in PDF and Word format to download.
Notary Acknowledgement Wording Examples
When using our free legal documents, it may be a requirement in some jurisdictions to have certain documents sworn to and signed under oath before a notary public or commissioner of oaths e.g. your ast will, power of attorney, affidavit etc.
Even if it's not a formal requirement, acknowledgement by a notary public of a sworn statement, serves as proof of a person's identification and verification of his/her signature, and can add more credibility to your important legal documents.
Below are some samples of notary wording on a document.
Acknowledgement by a Notary Public:
This document was sworn to and acknowledged before me on this
______day of ____________________20__

by ________________________(full legal names) who is personally known to me or who has provided identification in the form of _________________.

Signature of Notary Public __________________
Full legal names ___________________________

My commission expires ________________________

State of _____________________
County of ____________________
Attestation by a Commissioner of Oaths:
I, (full legal names) of (address) in my capacity as Commissioner of Oaths certify that ______________ is personally known to me or has provided identification in the form of _________________ and acknowledged to me that the accompanying document was executed by him/her for the purposes stated therein.

Signature _________________
Capacity _________________

Place ___________ Date __________
Below are quick links to our most popular free legal documents:
Tutoring Contract
Your free agreement provides for online tutoring as well as lessons in person and confirms the tutor's status as an independent contractor.
Lease Extension Letter
You may have to confirm your lease extension in writing. As a tenant in good standing you should negotiate better terms for your next rental period.
Durable or Lasting Power of Attorney
with explanatory notes and a variety of other free POA forms.
Loan Agreements
Review the various repayment options and select a free sample document to suit your requirement.
Free Bill of Sale Forms
Customize your documents for the sale of a variety of goods.
We continually update or add new information to our guidelines and legal documents to keep them relevant.
A handshake and a verbal agreement may work ... sometimes! Rather just
"GET IT IN WRITING!"
Please Note Terms and Conditions of Use:
The data on this website is for informational purposes only, and does not constitute professional advice or even purport to amount to opinion. Since every legal issue is different, suitable legal counsel should be consulted to advise on and resolve specific matters. The documents on this website are made available as guides only and you use them at your risk.
This means that you accept that www.free-legal-document.com and the webmasters will not be liable in any respect concerning wording of the documents, or their interpretation, or any disputes which may arise from their use.
Please review our Disclaimer for more information.
We also hereby confirm, as stated on our Privacy Policy page that we do not sell personal information.
So - Download your free legal documents or free legal forms and explore the additional tips, legal guidelines and information available.
Does this site deserve your thumbs up?