Become a Landlord
The Perfect Way to Invest in Property
When you become a landlord, your tenants pay you towards an appreciating asset!
Take a look at our guidelines on how to find the right type of property and use our free landlord forms to manage your tenants.
People generally rent or lease because they do not qualify for a mortgage and they are mostly salaried employees who commute to work daily. Cater for that market!
Do not look at an investment property as if yourself will be living in it. Your personal taste in carpets and tiles has nothing to do with how easy to rent the property will be. Buy a neat property in good condition in an area where the rental demand is high.
So - a property in a middle class suburb, preferably close to commuting routes, which does not demand too high a rental, is perfect for real estate investing when you become a landlord.
Buy in the Right Area
Ideally you are looking for an area where property shows excellent growth on investment. Alternatively you may invest in an area where the capital growth is not necessarily that high, but the rental income covers all the costs.
The determining factor is by how much you can subsidize the costs, but both have merit and are worth investigating as prospective landlord.
What are town planners proposing for the medium- to long-term? Is there a proposed major road, sports stadium, train route, shopping center or school which may either detract from or enhance your property investment?
Go out with experienced real estate agents in the area and pick their brains!
How Much Money do You Need to Become a Landlord?
Find a potential investment property and calculate the costs involved - mortgage payments (use the bank's money!), levies, rates and taxes (and agents fees if you are not doing it yourself).
Investigate the expected rental income (allow for a 4% vacancy rate per year), and calculate the shortfall, if any. If you can afford to subsidize the shortfall comfortably, you're in business to become a landlord. All things being equal, every subsequent year your shortfall should reduce because of the annual escalation in rent and if you calculate the Best Rental Price.
Calculations are easy to do if you only have a couple of properties in your property investment portfolio. Once you've grown your real estate investing, you may have to buy rental property software to keep track of cash flow, return on investment etc.
To Furnish or Not
A furnished apartment obviously generates much higher rental although you may have shorter rental periods.
The trick is to source the furniture and appliances at a good price and buying them in good used condition can be ideal. If you have time on your side e.g. you buy off-plan from a developer, you can gradually buy and store the goods until the building is complete.
Do not buy rubbish - you can not attract quality tenants such as corporate rentals for example, unless you supply quality furnishings.
Check with your local authorities, chamber of commerce, homeowners association or your friendly letting agent about specific duties of landlords in your area, state, province or country such as lead paint disclosure, whether the unit must have a stove, smoke alarms, etc. etc.
Another good idea is to register the services (water and electricity) in your own name when you become a landlord. You can then simply invoice the tenant separately on a monthly basis. This way there are no nasty surprises such as unpaid utility bills at the end of the lease agreement and perhaps (because you are the registered owner of the utilities) you can request the service to be stopped when the tenant does not pay. This can be a dodgy one.
Normally you can not cut off electricity to a tenant, but it might be worth exploring the law in your area if you do it this way. Note: make sure to demand a electricity deposit on top of the rental deposit before signing the lease agreement.
When you become a landlord your philosophy should be the same as in any business. The customer (tenant) is king! Provide a good service, attend to complaints immediately and your business (investments) will flourish.
Related Content to Explore when you Become a Landlord:
The Following Free Landlord Forms can be Downloaded or Printed:
Rental Application Form and Fees - Your aid to screening tenants, legal guidelines and the rights of a landlord
Rejection Letter - To be issued to unsuccessful rental applicants
Free Property Rental Agreement - Rental agreement format for House Rentals
Free Lease Agreement - Lease agreement template for Apartment Rentals
Simple Rental Agreement - One page template for month to month tenancies
Security Deposit Receipt - Template and the landlord's rights and obligations
Rent Receipt Template - May be a legal requirement, subject to a fine if not issued
Lease Renewal - A convenient way to formalize the extension of the rental term
Guarantor Application - Form to capture information of the guarantor
Guarantor Agreement - Offers additional security for payment of the rent
Rent Guarantee - What is the most effective way to set it up
Eviction Notice to Quit - Sample legal document
Real Estate Power of Attorney - Empower your Agent to manage your real estate investments
Please visit our main Real Estate Contracts page for links to the above.
Related Government Sites for Real Estate Forms and Information for Landlords and Tenants
To assist you with your state or country specific landlord information, follow the links on the right to your respective Government sites.
Real Estate Investing
These pages do not deal with speculating in property i.e. buy, quick lick of paint perhaps and resell. It takes a long-term look, rather like a pension fund - except nobody else will contribute towards your pension fund to the extent that a tenant does, and there can also be a huge difference in growth between the property market and traditional pension funds. (I think you can gather by now where my money is).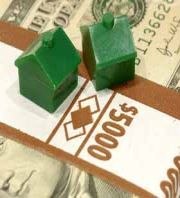 You therefore also need to take a long-term look at the tax implications. Capital gains taxes vary from country to country and whether the property is bought in a private capacity, closed corporation or trust. (However, you have to look at the bigger picture - capital gains tax is not the only factor to consider). As a landlord you need to safeguard yourself and your investment.
You may want to refinance (re-mortgage) the property once its value has increased and in some countries that additional amount that you can take as cash is tax free. (Capital growth as opposed to capital gains.
Do it the best way right from the start - this is one department where you really need to consult the experts!
Managing your properties is not difficult to do yourself - many landlord forms are supplied here free of charge. Please refer to our Free Legal Forms page for a complete list and overview of all the free contracts available on our site.
There are some horror stories about the difficulties in evicting non-paying tenants or damage done to properties by tenants. Do not let that deter you if you want to become a landlord. If you do thorough tenant screening (after completion of the free rental application form) and have a hands-on approach, most of those problems can be eliminated.
Does this site deserve your thumbs up?