Free Employment Contracts
Using the free employment contracts and legal forms supplied here,
can make it easy for employers to spell out all the requirements for an employee:
non-disclosure, non-compete or restraint of trade clauses, working hours, remuneration etc.
There are advantages and disadvantages in having an employment contract. It ties the employee and employer to the provisions therein. (We'll talk more about how that actually works out in real life further down on this page.)
For example: The employer may stipulate a one month notice period in the employee contract, but should the employee turn out to be totally unsuitable for the job, the employer cannot shorten this period without full compensation.
Having said that - if the employee was not truthful about qualifications or skills on his/her application form or CV or during the interview, the employer will have grounds for dismissal.
Your labor laws may allow a "contract at will" which does not require a notice period either way. Whilst the employer may feel it allows freedom to quickly get rid of under performing employees, the labor court may not see it that way.
It's a double-edged sword though. It equally creates a situation where employees can resign with immediate effect, leaving an employer stranded at what may be a crucial time.
Enforcing Employment Contracts
The reality is that employees can leave whenever they feel like it anyway, whether there is a contract in place or not.
And in any event, an employer would not want to force an unwilling or hostile employee to return to work to fulfill his/her side of the notice period as stipulated in the agreement.
Employers therefor may well feel that they have the short end of the straw and that labor laws favor employees.
Take a look at the various employment templates available here before deciding which agreement would be ideally suited for the position and your company.
Employment Contracts and Employee Forms:
Please refer to the Free Contract Templates for our Independent Contractor Agreements
External Resources:
Reviewing the extensive range of challenging and behavioral interview questions at Best Job Interview can assist the employer in conducting interviews, the selection process and compiling post interview reports.
We also found a great source of information on Employee Rights to assist both employer and employee in conducting fair practice in the work place.
Advertising the Position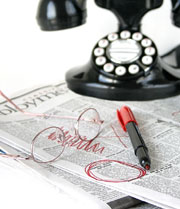 Depending on the position being advertised, you will have to make the decision on which medium to use i.e. newspapers, employment agencies, head hunters or the World Wide Web.
You should always (if possible) advertise the position within your organization and give your staff the opportunity to apply.
You can also offer a referral award to staff members who find suitable employees for you amongst their friends and acquaintances - why not - an employment agency will cost you a lot more.
Your printed advertisement or sign outside your place of business or notice on community boards etc. should give the following information:
The job title and brief job description
Qualifications required
Application procedure i.e. telephone, CV or résumé by fax or mail and the closing date for applications
Details of the Company - address, telephone, fax
Name of the contact person
Legal Guideline for our Free Employment Contracts:
Before you sign any of the free job agreements you must take the time to go through it with your new employee or allow him / her to take it home to study. Any changes as well as every page must be initialed by both employer and employee and two witnesses.
Note: The witnesses must in fact see both parties sign the free Employment Contracts because that (the signatures) are what they are witnessing. A witness may be called upon later to testify to this and may have to verify that the employee had the opportunity to read the free employment contracts and was not forced or placed under duress to sign.
For easy reference to find any of the free employment templates mentioned, please refer to the free legal forms on Sitemap 1 (see Navigation bar left) - scroll down to the EMPLOYMENT section.
Does this site deserve your thumbs up?