Buy and Sell a Boat
The best way to buy and sell a boat is to formalize your transaction
with our free boat bill of sale, which will give both buyer and seller peace of mind.
Yacht brokers normally only handle large boats, so to buy or sell a smaller boat privately is often the only way to go.
It can be easy - explore our boat buying tips, then download your free boat bill of sale and Get it in Writing!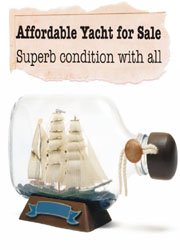 A private sale can benefit both buyer and seller since the profit of the dealership does not come into play. Dealers also will not be keen on trade-ins off-season because it will take them a long time to re-sell the boat.
An important aspect when you buy and sell a boat is to establish whether the boat has ever been fined. A boat is an independent entity so all its fines are carried over to the new owner.
Any environmental damages to coral reefs etc. caused by the boat can carry very heavy fines. You can check the history of a boat to verify that there are no environmental liens outstanding.
You can download your free bill of sale by clicking on the following links right now but do take some time and explore the useful tips on how to buy and sell a boat.
Free Boat Legal Templates and Related Information:
Whether you are buying or selling a boat, do your research and find the market price for a similar make and model. Explore local or internet classifieds or the Nadaguides.
When you buy or sell a boat privately, an added advantage will be the extras that come with it, which a new boat may not have!
A boat cover, depth finder, marine radio, life jackets, speed control, water skis, anchor, emergency flares, life raft and the all important trailer can make the purchase more attractive to the buyer and assist the seller in realizing a better price for his boat.
The best time to sell a boat will be at the start of summer when the demand is high and conversely the best time to buy will be off-season.
Relevant Government Sites
United Kingdom Boat Registration
New Zealand Recreational Boating
Does this site deserve your thumbs up?