Copyright Forms
for Webmasters and Authors
Our free copyright forms are specifically compiled to assist you in addressing the various Internet players when you want to put a stop to content theft.
You have a right under copyright laws and internet plagiarism can be stopped by sending appropriate notices to the relevant parties.
1 - Write a Cease and Desist Letter to the Infringing Webmaster
In the majority of cases your aim will be to have your content removed from another site as quickly as possible without further ado.
When you compile your Cease and Desist letter, you should not threaten legal action unless you are prepared to follow through.
Take a look at the alternatives and/or advantages of a C&D Letter
If you believe you have suffered financial loss because of the infringement, you really need to consult with a copyright attorney to advise you since litigation is beyond the scope of the general information supplied here.
Copyright Forms for Plagiarism and Copyright Infringement - Sample Cease and Desisit Letter to Infringers
2 - Send a Notice of Copyright Infringement to the Web Host and Domain Registrar

If you've sent a Cease and Desist letter to an infringing webmaster and received no reaction, your next course of action will be a notice of copyright infringement to the above mentioned parties.
This sample letter contains much of that which was sent to the webmaster, with a few modifications to comply with the required format of some Web hosting companies.
You may get the run-around from some of the Web hosts because your letter does not conform exactly to their prescribed format for copyright forms. Don't give up though - just add the exact phrase(s) as per their return letter to your notice and resubmit.
They may also ask for proof of ownership such as copyright registration.
Remember, you do not need registration of copyright to claim or enforce your rights under Copyright Law.
If you have indeed registered the copyright in your site, include the relevant details in your notice. Most webmasters though do not have registration and our sample letter makes provision for that.
Most of the time you won't even need to send a letter to the Domain Registrar since Web Hosts will respond quite quickly.
Internet Copyright Infringement -
Sample Notice of Infringement to Web Hosts and Domain Registrars.
3 - Send a Notice of Copyright Infringement to the Search Engines
Note: Some of the search engines have a standard form which you can complete online so you won't need to send a letter as such. We provide links further down on this page.
You will only have recourse with a search engine if the infringing pages can be found in the index. They cannot do anything about your duplicated pages which do not feature in their search results.
The most galling aspect can be to see your stolen pages (displayed on another site) ranked higher in the search engines than your site. Believe me, it happens!
If a company such as Google finds merit in your complaint, they will remove the infringing content from their index and display a notice such as this on the relevant page: "In response to a complaint we received under the US Digital Millennium Copyright Act we have removed 1 results(s) from the page." (etc).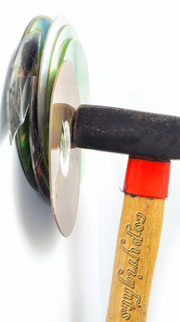 They may take a couple of weeks to investigate and resolve the case, but rest assured, your complaint will not go unnoticed.
Google also has a strict policy against repeat offenders so your notice may alert them to another infringement and should the infringer have an account with them, such an account may be terminated.
All the search engines have a prescribed format for notices of copyright infringement and will stipulate if copyright forms should be faxed, posted or if they may be sent electronically.
Copyright Protection - Sample Notice of Infringement to Search Engines
By the way - You do not have to send your copyright forms in this particular order!
We have gone straight to Google when we found a large number of our free legal documents duplicated on another site (and indexed by Google) and our complaint was dealt with most effectively.
Copyright Forms and Where to Find the Relevant Parties
***
Does this site deserve your thumbs up?