Free Bill of Sale Forms
Our free bill of sale forms may be used for the sale of a
vehicle, boat, motorcycle or any other equipment or personal property.
Before using any of our templates to compile your bill of sale, it is important to note the guidelines on this page, especially when entering into an installment sale / hire purchase agreement.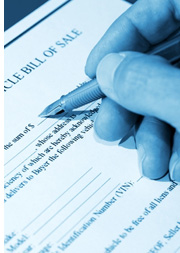 Note: Links to our related free forms/templates are at the bottom of this page.
Free Bill of Sale Forms - Interest Charges and Late Payment Fees
Whilst it is acceptable to charge interest and/or late payment fees, the percentage or amount charged is regulated by usury law and you need to confirm what is permissible in your state or country.
Quite often a used car bill of sale or an installment sale agreement between family members or friends may be free of interest. However, you need to specify zero interest on the free bill of sale forms and ensure that the interest portion (that would normally have been applicable) does not exceed your tax-free gift allowance in a calendar year.
Note: As an alternative to an installment sale and security agreement, you could have a normal bill of sale, promissory note and security agreement.
Recording a Lien
As security for an installment sale, you need to record a lien on the vehicle, boat, motorcycle, equipment etc. that you are selling. A UCC (Uniform Commercial Code) Financing Statement serves as public record that the goods form part of a security agreement and protects your rights in case of default on payments.
The seller may also be recorded as lien holder on the title of a vehicle, boat, trailer or motorcycle.
Once payment has been received in full, the seller must issue a lien release which must also be filed to remove the lien from the records. Thereafter the buyer will have a free and clear title to the goods.
Repossession Upon Default
The seller may exercise his/her rights as a secured party under the Uniform Commercial Code upon payment default and repossess the goods. Note though: if the seller intends selling the goods by public sale, reasonable notice (at least five days) should be given to the defaulting buyer of such a public sale. The notice should be in writing.
Our free bill of sale forms for an installment sale make provision for the repayment terms as well as specifying the seller's security interest in the goods.
Related Information and Free Bill of Sale Forms:
Bill of Sale - An overview of, and links to all the available free bill of sale templates.
For example: Forms for instances when a single payment to the seller is made, sample installment / hire purchase agreements and specific forms when selling a vehicle, motorcycle or boat.
Lien Release Form - To issue to the buyer of your goods upon full and final settlement of your installment sale.
Promissory Note - For more information on unsecured loans and the available free legal forms.
The free bill of sale forms on our site are made available for informational purposes only. It is important to consult with an attorney to ensure your legal documents provide the protection you need when selling goods, especially high value items.
Does this site deserve your thumbs up?