Advantage Disadvantage of a Franchise
An Honest Opinion
Not sure about franchises?
A critical look at the Advantage Disadvantage of a Franchise may help you reach a decision.
Having been franchisees for the past 20 years, we understand the concerns that must be addressed before investing what may be a substantial amount of money.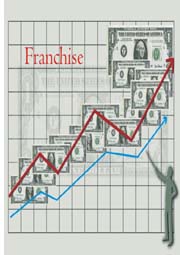 The Advantages of a Franchise

When you consider the franchise model, the major plus is that there is normally faster growth in the franchise business compared to a newly established independent business.
If you buy into an established brand you gain instant credibility and goodwill from customers which is an excellent kick start for your business franchise.
You buy into an established business model where you can draw on their experience. As such you will save money on "school fees" i.e. you can avoid costly mistakes and you do not need to re-invent the wheel.

A well run franchise should offer a turnkey business: from site selection to lease negotiation, training, mentoring and ongoing support, business and or software pro-forma through statutory requirements and troubleshooting.
A franchise can (through the collective pool) advertise on a scale which will be impossible for a small business' advertising budget.
You need not necessarily have previous experience in the field of your chosen franchise due to the extensive training normally offered.
There is a wealth of experience amongst your fellow franchisees who will gladly share their knowledge and advice (all for the betterment of the brand).
If you want to franchise your business, you expand your brand and thereby your business without having to deal with the typical headaches of running the outlet yourself.
The Disadvantages of a Franchise

Note: If it looks as as if the Advantage Disadvantage of a franchise is skewed towards the negative, don't be alarmed. Given the choice I will buy into the same franchise again as many franchisees will assure you when you put that question to them (as you must!) during your investigation phase.
It can be expensive! Because of the standards set by the franchiser, you have no choice as to signage, shop fitting, uniforms etc. and as such you can not source less expensive alternatives. Added to that is the franchise fee and ongoing royalties and advertising contributions.
You can not add elements to the business at will even if it will add to your profitability. For example, if you run a fast food franchise you can not add your grandmother's award winning apple pie to the menu without written consent from the franchiser.
Your own business accounting is not private - the franchiser will demand full access to your records.

You may be contractually bound to purchase inventory (if they are specific to the franchise) through a central warehouse where you can not negotiate price. Note: by law (antitrust) a franchiser can not force you to buy other products from him if you can source them at a lower cost from another supplier.
You may be contractually bound to spend money on upgrading or alterations as demanded by the franchiser from time to time. It can be relatively low cost such as a change in uniforms to much more expensive items such as changes in corporate identity or shop fitting.
Local marketing of your small business franchise must conform to standards as set out by the franchiser which can affect their cost. For example, newspaper advertisements must be in full color (more expensive than black and white) or not less than a certain size etc.
If a franchisee in the group runs a shoddy business or treats a customer badly, you may be painted with the same brush.
You may feel after some time that you do not need the "brand" anymore to ensure the success of your business and may resent the cost of the ongoing royalties, conferences, franchise meetings etc.
Should your franchiser go into liquidation you may be prohibited from continuing with your franchise business by creditors or by a franchise parent company (if any).
You have to make financial provision for any renewal costs - try to identify this at the time of the initial franchise agreement.
The advantage-disadvantage of a franchise is just a small part of franchising to consider!
Refer to our
main franchise consulting page
for information on:
Franchise Disclosure Documents
Obligations of the Franchiser
Obligations of the Franchisee
Then have a closer look at the following which will also help you to consider the Advantages and Disadvantages of a Franchise.
Small Business Franchise - What to look out for
Buying a Franchise - The Territory and Location
Calculating Franchise Royalties
How to Franchise your Business
Finding the Most Profitable Franchise
Termination of a Franchise and Restraint of Trade
We welcome your comments and questions! Make use of the Facebook comment feature further down on this page.
Does this site deserve your thumbs up?